Lead capture forms are among the most important elements of your website for generating leads. Without them, you won't know a thing about the prospects landing on your website and consuming your content.
When these forms are set up and implemented the right way, however, they enable your sales team to gather the information they need to shorten sales cycles and open the door for more personalized marketing opportunities. 
Just think how beneficial it would be for a real estate business to send a location-specific newsletter, for example. Or how effective a manufacturing company would be if it could send prospects content that helped solve supply-chain problems.
The trick is setting up your lead capture (or lead generation) forms in a way that makes converting high-quality leads and capturing the right information possible.  
That's our topic today.
With these simple tips for setting up better avenues for lead capture, you can improve your contact conversion rates and set up your sales and marketing teams for continued success.
How to improve your lead capture forms with conversion rate optimization 
As you consider ways to improve your lead capture forms through conversion rate optimization (CRO), you might be wondering what average conversion rate you should be aiming for in the first place.
According to these insights from WordStream, the median lead capture form conversion rate is 2.35%:
The top 25% convert at 5.31% and above, while the top 10% are at 11.45% and above.
Even though the conversion rate for your specific business might differ depending on your industry, product, or service, these figures can help you gauge where you ought to be and serve as a jumping-off point for future CRO analytics.  
Now that you understand where your conversion rates should be, here's how to improve them:
Embed your lead capture forms on landing pages
Though there are different ways to present a lead capture form, such as on popups or directly on a website page, the most effective way is to feature them on a landing page (or what some may call a lead capture page). In fact, research by Omnisend suggests that popups only generate 3% conversion rates, while landing pages convert 23%.
Landing pages are the standalone web pages that website visitors land on after clicking a link to an offer or call-to-action (CTA). 
Here's a conversion offer landing page example from our client Sheffield Metals International: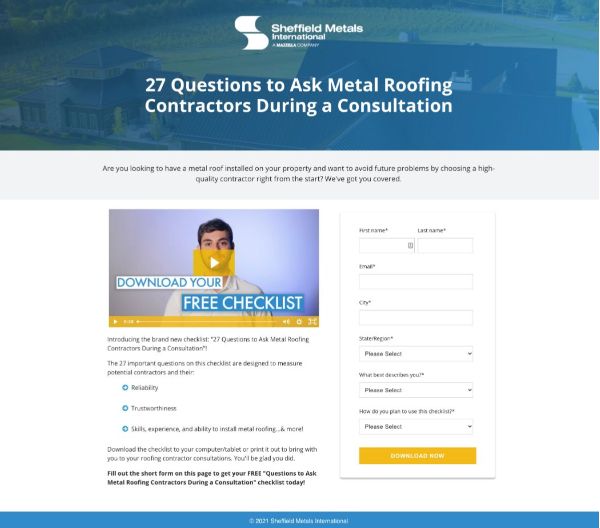 Landing pages are great places to host your forms since they make it easy to explain the value of your offers while removing all the distractions, such as links and navigation.
Make the value of filling out the lead capture form easy to understand
Speaking of value, it is considered a lead generation best practice to include information about what your customer can expect if she gives you her information in exchange for your offer — be it a free ebook, buyer's guide, or checklist. 
Include content that quickly conveys what the prospects are getting, which you can accomplish in the headline or even a list.
For example, a case study published by TechCrunch explains that after A/B testing, lead generation company China Expat Health increased its conversion rate by 79% by changing its headline "Health Insurance in China" to "Save Up to 32% on Your Health Insurance in China." 
In the second example, the value of filling out the form is clear — if you share a bit of information with us, we will help you save up to 32% on your health insurance.
Short, sweet, and clear!
Include a video alongside your form
When consumers have to fill out a form in exchange for content, most are wary of providing their personal information because they're not sure what you'll do with it. Will you spam them with an overwhelming number of sales calls and marketing emails? Or worse — sell their information to other companies?
Landing page videos (covering topics that we at IMPACT call The Selling 7) serve to eliminate your prospect's fears and set them at ease by walking them through exactly what they can expect when they fill out the form. 
We've found videos also increase conversions by roughly 80%.
We love this example by River Pools:
It works because it shows the company is willing to address what we're all thinking when presented with an online form that makes that initial connection.
Information your lead generation forms should collect
When creating lead conversion forms, how do you know if you're asking the right questions or including the best form fields?
The information you collect can help you get the right information to sales about their highest-quality leads — but make sure it's relevant to your offer. For example, if someone subscribes to your blog, you shouldn't be asking for the contact's phone number. You can always get this formation later when it's appropriate.
When choosing which fields to include, focus on the questions your sales team gets on a regular basis that provide the most value to the sales process. 
Remember, don't ask for too much information, which might discourage people from filling out the form. To avoid this, only ask for information that is essential to contact and qualify your leads. 
1. Email address
Now you might be thinking could this be any more obvious? But how else are you going to develop a lead nurturing campaign? You probably don't want to send a message in a bottle or utilize a carrier pigeon, after all.
Email is one of the most effective ways for companies to interact with leads. Without an email or a way to contact them, there is no way for you to nurture them further down the sales funnel.
2. Job title/role  
As a company, there are certain people you want to talk to, such as key decision-makers. But how do you know who those decision-makers are? 
Ask for the lead's job title to ensure that you're nurturing the person who fits into a sales-ready lead for your company or agency.
Consider utilizing a drop-down to let them choose their role. For example, if you're a marketing agency, your drop-down might look something like:
CEO / owner
Sales representative
Marketing manager
HubSpot

client

Marketing niche service provider
Marketer at an agency
Use any roles that make the most sense for your business. This is a great opportunity to market these contacts with more pointed content in future marketing campaigns, even if they are not a decision-maker.
3. Number of employees
Knowing how many employees your leads have can be extremely helpful if your product or service is sold B2B. 
Company size can give you a general idea of whether a company can afford your services. As an enterprise-level agency, for example, if a potential client only consists of an owner and two other employees, they probably won't be able to afford a service priced at $12,000+ per month.
However, if you have a lead with 200+ employees, there is a much better chance they will be a great fit.
Consider utilizing a drop-down and breaking the number of employees into the segments that typically fit with your services and cost, whether that's 25-50 or over 500.
4. Biggest challenges
Do you know your lead's biggest challenges? Is there a recurring challenge all your leads have in common? By asking what their biggest pain points are, you can get a better understanding of how to approach a sales call and which content you can send them to shorten the sales cycle. 
Not only is this a helpful way to learn more about each individual lead and how you can nurture them, but it also can help you gain the information you can use to better serve your audience as a whole. 
You can learn more about how to shorten your sales cycles with content in our IMPACT+ course, "Assignment Selling: Content Is Your Greatest Sales Tool."
5. Industry
With all the different industries out there your company or agency might specialize in just one. 
Just like you would inquire about a lead's job title, some companies see greater success working with certain industries.
6. Company name
Acquiring a company's name allows someone in your company, most likely the sales team, to check out your lead's website and learn more about how your business can help.
7. Website
Along with asking for a lead's company name, don't be afraid to ask for their website. 
The URL for the site might not be just the company name, or maybe there are several companies with the same name, for example, if your lead's company has a generic name like "Mike's Pizza."
Using progressive fields for smarter lead capture forms
If you remember one thing from this blog post let it be this: Do not ask for all of these form fields at once, unless it is a bottom-of-the-funnel offer and your business has already built trust with your lead. You can always ask for more information later, and in fact, that is usually the better approach to capturing leads.
Too often, companies request all kinds of contact information and ask tons of questions, failing to realize that their 15-field forms are significantly lowering conversion rates and hindering people from giving any information at all.
Most marketers will agree that three to five fields are typically best. 
With this in mind, if you have the software, make your forms smart or progressive to gather information over time. These forms start with a set of fields, then when a customer who has filled out the form already returns, the forms present new fields. This allows you to get more information a little at a time.
By utilizing progressive fields in HubSpot, for example, you can ensure that your contacts see only three questions at a time, with new ones appearing each time they complete a form fill. This way, you still get all the information you need without scaring away prospects, and you have the opportunity to present new fields (and collect more information) each time.
To add these forms to your landing pages (they don't work for popups), create a new form under the "Lead Capture" option in the "Marketing" dropdown:
To make a field progressive, hover over the field and click the pencil icon.
On the left, click the "Logic" tab. 
In the "Dependent" fields section, choose the criteria the form needs to meet in order to offer a second field, such as whether the contact filled out that field with a certain value or at all.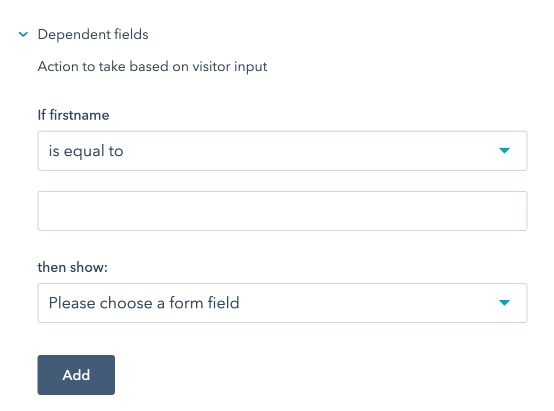 For example, if in the first form the prospect filled out, they included their first and last name, these fields can instead ask about industry in the next form.
These smart forms will help you collect more data without bombarding your leads with requests for all of the information all at once.
Make every lead generation form count
As you consider your lead capture process, use these tips to make the most of your forms. The more thought-out and concise they are, and the more value you provide to your prospects, the more high-quality leads you'll be able to offer your sales team.
As always, if you still have questions about how to improve your lead generation process in general or how this fits into your overall They Ask, You Answer strategy, set up a time to talk to an advisor or take one of our many sales courses offered at IMPACT+.
Even making these improvements on just one of your lead capture forms can supercharge your sales process and improve not only the number of leads you're able to send over to your sales team but also the quality.
And your sales team is sure to thank you!